44 years after its last European Championship and 30 years after its last World Cup in Mexico (memorable of the 6-0 defeat from the Soviet Union), Hungary national football team gained presence again at an international tournament, at the ongoing 2016 UEFA European Championship. Moreover, it got being advanced to the round of 16, just after its second match. Hungary proved: the "National Eleven" has place among the top teams of Europe, and not only because of the increase of participating teams from 16 to 24.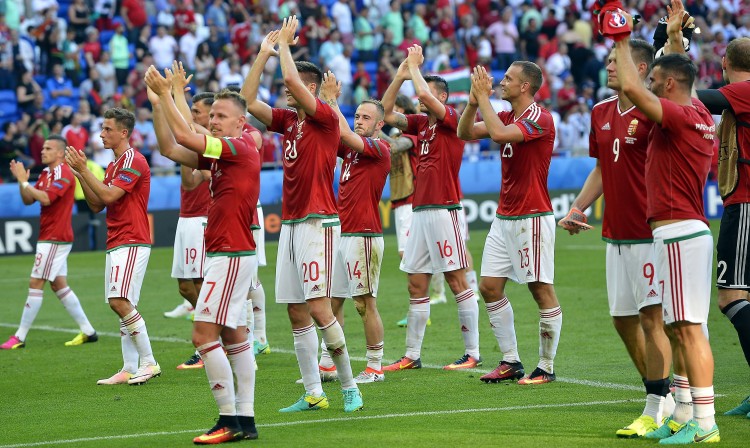 Hungarian footballers after the match against Portugal. Photo: MTI
The fact that Hungary won the group – which was succeeded also by France, Italy and Germany, but not by England and Spain – has surprised the publicity of Europe, including the Hungarians themselves. After all of the first three matches: a 2-0 won over neighboring Austria, a 1-1 draw with surprise team Iceland (in which the Icelandic goal was shot from a strongly doubtful penalty), and a 3-3 draw with Portugal (featured by Cristiano Ronaldo), people in Budapest, capital city of Hungary, spread out to the streets, made the traffic stop and the inner city got crowded with happily celebrating people. However, even in Hungary is not everybody overjoyed by the national team's successes and oppose any kind of jubilee over football, mainly of political reasons that are maybe not clear for foreigners. So let's take a look at the two main reasons.
The first reason: in the last few years, football became a central political issue in Hungary. Prime Minister Viktor Orbán (from the ultra-conservative, right wing 'Fidesz' party), who was once also a semi-professional player himself, started a football development program. It means not only increasing financial support for football teams, but also building more than 30 new stadiums (6 ready, 13 in progress and 12 planned) around the country, even for 2nd and 3rd division teams. These teams or they hometowns are mostly politically connected to the governing Fidesz party. These cost together 215 billion Hungarian Forint (~770 million USD), of course financed by the state budget. One of them was built in the municipality of Felcsút [fel-choot], home village of Mr. Orbán. (In addition, the stadium was built right next to the PM's house, on a piece of land owned by him.)
The stadium is also the home ground Puskás FC (named after 1950's football star Ferenc Puskás), a first division football team that was founded by Mr. Orbán, when he was the leader of opposition. Since Fidesz party has came to power in 2010, the team and its football academy – which are functioning together as a unique business enterprise, run officially by Mr. Orbán's closest friends – get regularly the highest amount of state support. (In 2015, it was 1,73 HUF - ~6,2 million USD[1] – 12% of the support of all Hungarian football teams together.[2]) The team got promoted to the first division (NB 1) in 2013, but despite the privileged position, in 2016, after three seasons, they were relegated back to the second division. (By the way, the team has no significant number of fans. The stadium has more seats than Felcsút's population of 1800, but the seating capacities of other newly built stadiums were also heavily overestimated and they exist with of visible inefficiency.)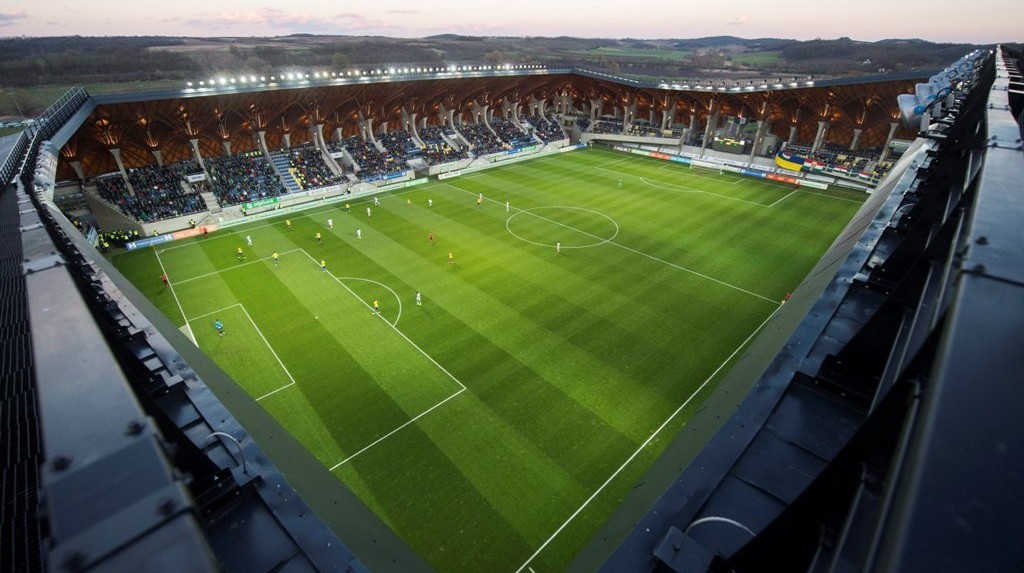 Pancho Aréna, the stadium in Mr. Orbán's home village. Photo: 24.hu
During these years, education and health care fell in crisis. No chalks in schools, no heating in hospitals, waiting months or years for an operation, underpaid doctors and teachers, low wages, national currency on the ground… Protests, strikes, growing oppression, weak trade unions, weak opposition parties… Growing emigration: ca. 500,000 Hungarians – 5% of the whole population – are living abroad, most of them have left in the last six years. London's Hungarian population became the second largest in the world (after Budapest), so they are now extremely concerned by Brexit. (Hungary is a member of the European Union and its citizens are EU citizens too.)
To sum up: football in Hungary became the symbol of state-level corruption and the overall superiority of the PM's favorite hobby.
Whether the Hungarian national football team's latest successes are proofs for the efficiency of the huge amount of public fund that was pushed into sports, we don't really know. It is sure that the newly appointed national trainer, Bernd Storck from Germany, made a great job in creating a real team. But we might also expect that Mr. Orbán will keep it as his (and his government's) own success and a motivation for putting more money into football. So it is understandable that many Hungarians who don't favor the ruling political power, don't want to celebrate with the Prime Minister and show any form of support for his unrealistic ideas.
Celebrating people in the downtown of Budapest. "Ria-Ria-Hungária!"
The second reason is simpler: in the last twenty-five years, football bleachers were taken over by neo-Nazi groups. In Europe, the word "ultra" means strong and active supporter of his team. In Hungary, this word is the synonym for "fascist skinhead hooligan". Singing and chanting songs and rhymes, offending Jews, Gipsies, Gays or neighboring nation Romanians are usual, along with political symbols of far-right extremist movements (for example the map of Greater Hungary, which denies the after-WWI state borders and the sovereignty of neighboring countries).[3] The photo[4] which was shot of Hungarian football fans in Marseilles, presenting a "Hitler salute" and outraged many western readers, is a usual sight on the sides of Hungary's football fields. It is generally accepted in many other countries that football ultra groups may have common political views or shared values, also rightist or far-right ones. But in Hungary – and also in many countries of Central Eastern Europe – they are the only visible ones. Even (or especially) among the clubs with old leftist or working class roots.
The causes of this phenomenon are under debate, but it may be the main reason of the decreased number of active football fans. Many former fans withdrew from attending matches; others joined these norms and new habits. It doesn't mean that every football fan in Hungary is a neo-Nazi, but the ones who oppose these views have no choose but tolerating the circumstances. Even many others who follow the extremist norms are convinced that saluting with extended arm and shouting anti-Semitic and racist rhymes are normal accessories of pulling for their team, without having any moral or political conviction. But it is understandable too that many people don't want to celebrate together with Nazis, or even belonging to the same crowd.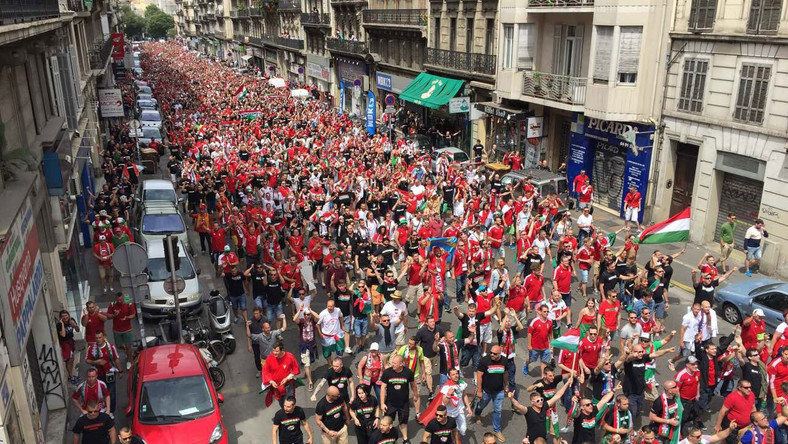 Hungarian fans marching in Marseille: the normal majority.
However, the Hungarian presence at the UEFA Euro expressed a positive effect: the "normal" fans appeared again in larger numbers. Moreover, they form the majority of the crowd marching on Budapest's streets, and also the ones who pull for the team live at the stadiums in France. They want to share happiness and joy, instead of aggression and fascism. The clear border between the old-style, violent, extremist ultras and the newly (re)appeared, normal, moderate fans is now more visible that any time before. Last Tuesday, after the victory over Austria, when the crowd reached the Great Synagogue, a few people begin shouting "Sieg heil!", the majority shut them down with other rhymes. On Saturday, at the stadium of Marseilles, when the extremist seed (wearing typically black) provoked a clash with the security forces, the other part of the crowd (dressed in red-white-green national colors) was shouting the word "Csürhe!" on them, which means "mob", but in a more degrading way.
Most Hungarians who oppose the government's policies are also happy over the "National Eleven's" unexpectedly good results. They keep them an achievement of the team and the German trainer, and a positive representation of the country. As Mária Vásárhelyi, a sociologist from the Hungarian Academy of Sciences described the situation: "a frustrated country, hungry for success".[5]   Now the feeling of success is common and widespread, even if there are people who are not happy if they get stuck on the Budapest tramway because of celebrating people, or who are not even interested in football at all (just like in any other country).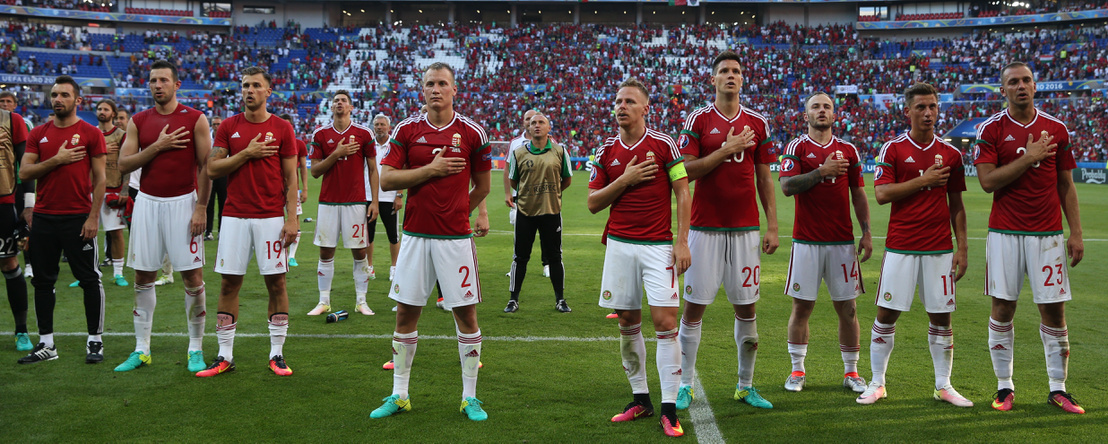 Hungarian national football team singing the national anthem. Photo: Index.hu
The remaining question: will these new moderate fans remain after UEFA Euro is over? Reaching the round of 16 is a beautiful achievement by our boys, but the fairy tale will end once. What is coming after it? A big disappointment and returning to the good ol' intolerable way of pulling? Or these people, who are seemingly ready to be unified for a national cause, will also appear on club level? Or do we have to wait again four years for the next UEFA Euro, maybe we will be there again?
We will see it only during season 2016/17. Until that, let's focus on the next match against Belgium, already in the round of 16. If Hungary wins, will get to the best eight teams and meet the football team of Wales. But anyhow, Hungarian footballers have reached a peak that was not reached for three decades. So regardless of Sunday's result, football fans have the reason to celebrate the same way as after the previous three matches.
Thanks for inspiration to László Szily (444) and Árpád Tóta W. (HVG).
[1] http://444.hu/2016/05/03/215-milliard-megy-el-stadionokra-2020-ig
[2] http://vs.hu/sport/osszes/amibol-sportot-uznek-felcsut-az-egesz-rendszer-meregfoga-1022#!s0
[3] http://www.futas.net/magyarorszag/terkep/kepek/magyarorszagi-varmegyek-terkepe1876-730w.jpg
[4] http://metro.co.uk/2016/06/19/hungarian-fans-pictured-performing-nazi-salute-in-stands-at-euro-2016-5954303/
[5]https://www.facebook.com/zoltan.lakner.7/posts/10154254646563967?comment_id=10154254856878967